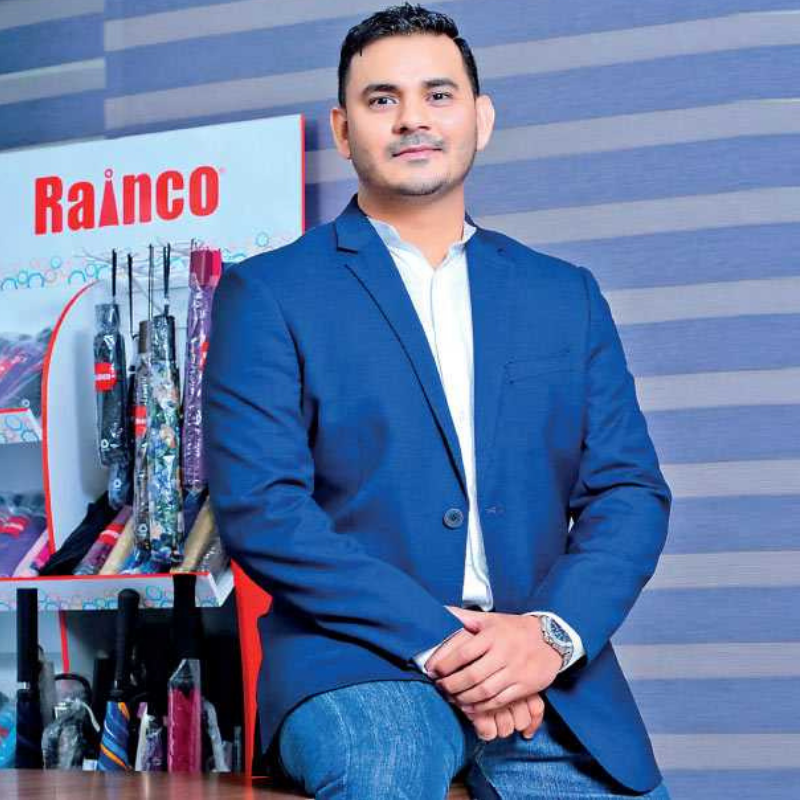 Rainco recently bagged the Gold award in the Fashion Retail category at the SLIM Digis. Rainco Ltd. CEO Ahamed Aroos speaks about the innovative mind-set that is inculcated into the Rainco DNA, which led to this win:
Q: What was the campaign that brought the recognition for Rainco at SLIM Digis?
We received the award for the 'Trendy' campaign, which was executed in line with a product concept that we came up with. Rainco has revolutionised the way the umbrella as a product has been perceived from being a mere commodity to more of a lifestyle product.
Accordingly, we introduced Trendy with the idea of making the umbrella more fashionable in line with the latest trends. The whole umbrella is inspired by denim culture. The fabric used for the umbrella has a denim look and feel. Our execution had to reflect the Trendy umbrella concept, therefore, we opted for unconventional methods of marketing. We wanted to strongly embed the 'Trendy' theme in the marketing mix and carry it right down to the consumer.
The entire product development was done using internal expertise. I must mention Janani Amaratunga, Senior Marketing Manager and Hansaki De Alwis, Senior Brand Executive, who did a lot of work to understand the concept and the market segment.
We used trending mediums like TikTok, Instagram and Facebook, and every digital media touchpoint to take this experience to the hearts of the consumers. We also worked with digital influencers, carrying out activities that this brand wouldn't have thought about before. We did a dance challenge called the 'Trendy Challenge' with Sachini Nipunsala, a Sri Lankan television presenter and dancer. The 'Trendy Challenge' created engagement with the brand in record numbers and paved way to reach the right audience.
Q:  What creative products has Rainco introduced in the recent past?
We are on a journey towards repositioning our brand. So, we have had some breakthrough ideas before. One is the sun-proof umbrella which comes with 'Sun Protech' technology. We know that people use the same umbrella for rain and sun. But what we identified that the needs are different. When it's raining, you need an umbrella that is sturdy to protect from the rain and the wind. When you're in the sun, you want a light umbrella that keeps you away from the heat and keeps you protected. UV rays are quite harmful to the skin. We use a screening fabric that offers 99% protection and reflects the UV rays back. Studies have proven that the temperature inside umbrellas with 'Sun Protech' is 2°C cooler than normal umbrellas.
Then we launched the C-Wiser, which is specifically for vehicle users. We have understood the differentiated needs of umbrella users who travel by car. The handle for this is in the shape of a C for the convenience of the user. Another problem that vehicle users have is opening the umbrella when getting into or out of the car. This umbrella is designed in a way that you use it in reverse, easy to open and close and water does not drip into the vehicle.
We also had the 'Stencil Umbrella' to support the creativity of the kids, where they can draw and colour their own designs on the umbrella. We give them a white umbrella and a set of child friendly fabric paint, a paintbrush and stencils, as well as an instruction manual for them to design their own umbrellas. It also became a good gifting solution for kids. Along the same principle and concept, we designed the 'Akuru Kude', targeting primary school and pre-school kids to facilitate learning of the alphabet.
Recently we worked on an umbrella we termed 'Titanium' which comes with an 'auto open and close' mechanism and a strong frame structure which also makes it windproof. This opens by pressing a button and also closes automatically with the same button further emphasising ease of use to the consumer.
These are only some of the innovations we have been developing. We are very careful not to be innovative for the sake of innovation but it has to add value to the consumer and their experience needs to be upgraded.
Q:  Who do you consider as your key audience, and how do you engage with them?
Our target audience is mainly women but our largest user base consists of people who use public transport. We have some very important segments; from school going children to tuition class students, university students to nurses, teachers, garment factory workers, to midwives, simply, people who are on-the-go. For them, an umbrella is a daily essential.
25 to 45-year-old females are the age group we target as they aspire to be more vibrant, smart, stylish, reliable, considerate and independent, which directly resonates with our brand attributes. They care a lot about their personality. They want to be modern. They want to be empowered. We have a 360-degree approach to engage with this audience throughout the year.
Our secondary target audience includes the kids' segment. We also have gents and special products that cater to the clergy under a different sub-brand under Rainco named 'Parami'. These include umbrellas that are manufactured according to the specifications that suit the members of the clergy.
Q:  Rainco is the pioneer in the umbrella industry. How have you continued to maintain this consistency?
The base of our strategy is quite simple. We have core values that we strongly believe in and the entire business is structured around these core values. Our core values are goodness, ownership, partnership and drive.
Even in all our communications, we are very specific that we spread a message of goodness. We don't compromise on quality. Usage is something that we try to understand. So, consistency is primarily built on what we have to offer as a product. We bring in the element of style and fashion to functionality.
We have our own design team and we have thematic designs that are very Sri Lankan. We even identify colours that are very Sri Lankan and ensure the design is 100% standardised for Sri Lankan conditions. We take a very robust approach to realign the product offering in line with what customers want.
In addition to our core values, we also have a set of customer promises. Firstly, we promise to give them a product that will never fail when they need it the most. Secondly, we promise the customer that they will get what they want, when they want it, which refers to ensuring availability and distribution. We have the largest penetrated distribution in order to make our products accessible to the customer. Finally, we promise the customer that we will make them stand out with unique experiences. We will give them design and appeal that really differentiates them but also an experience that showcases this uniqueness.
Q:  What are the product/market expansions you look forward to?
We are quite focused on ensuring that our core product and market is not compromised but we continue to look for opportunities. We are a Sri Lankan success story and have very strong and ambitious plans to take the Sri Lankan story to the global markets. As a relatively young brand, we were able to transform a category and perception around user behaviour. We are looking at a regionalised approach, identifying key markets across geographical regions. We are already in around seven-eight markets in terms of retail brand presence. We work with global brands in order to facilitate product development and manufacturing solutions to them in our core categories.
We are already the market leader for three other categories: adult mosquito nets, kids' mosquito nets and rainwear apparel. Our consistent effort towards driving innovation and perfection in the categories we operate has helped us continue our winning streak in all the categories.